Dry Eye Center of Excellence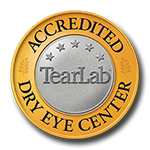 Dr. Epitropoulos and the Cataract & Refractive Center of Ohio are a Dry Eye Center For Excellence and can help with the diagnosis and treatment of dry eye syndrome.
A Breakthrough technology that I believe will address an unmet need for our dry eye patients is the first IntraNasal neurostimulating device called TrueTear that was FDA approved recently. This has been shown to be an effective, non-invasive and drug-free way to increase tear production. For more information, click here!
About Dry Eye Syndrome
Over 12 million Americans suffer from the disease called dry eye syndrome. People with dry eyes frequently experience burning and stinging of their eyes, their eyes often feel sticky, and their eyes are often red. Some people with dry eyes also have periods when their eyes get so watery that tears spill over their eyelids and run down their cheeks.
Your eyes normally make small amounts of tears all day long. Tears play several important roles in keeping your eyes healthy and your vision clear. Tears lubricate the eye's surface, wash away debris, and provide a smooth surface to help keep your vision clear. They also contain natural antibiotics that keep your eyes safe from germs that might cause infections.
Dry Eye Testing at the Cataract & Refractive Center of Ohio

Our dry eye center of excellence uses the Schirmer's test as a testing method evaluating the amount of tear produced for people needing dry eye treatment. This test is used to determine the severity of the dry eye syndrome. This helps our physicians develop an accurate treatment protocol.

Dry Eye Treatment Options
OTC eye drops
Restasis
Lipiflow
Several studies have opened eyes to a simple, yet effective, treatment of dry eyes – fish. As an example, the Women's Health Study conducted by the Harvard Medical School found that those women who ate more fish lowered their risk of dry eye. A review of eight studies confirmed a relationship between the polyunsaturated fatty acids in fish and an improvement in dry eye syndrome.

Symptoms of Dry Eye Syndrome
Burning sensation in the eyes
Scratchiness or itchiness in the eye
Stingy mucus like secretion
Feeling something in the eye
Decreased vision, usually mild to moderate
Tiredness of eyes
Light sensitivity
Contact lens intolerance
Blurred vision
Lipiflow:
Blephex:
Prokera:

Dr. Epitropoulos has been recognized as one of America's Best Doctors.

Dr. Epitropoulos has been voted as one of the top refractive surgeons by fellow physicians in the Central Ohio.