Dr Epitropoulos invented and patented the EpiGlare Tester which is a medical device to document visual disability caused by glare from sunlight or headlights. This will be particularly useful in measuring bothersome glare in patients who have cataracts. The technology has the potential to play a crucial role in improving clinical care and to address a multi-billion dollar public safely issue.
Cataracts are known to cause reduced vision and disabling glare. This is particularly significant for older patients driving an automobile at night. There is no accurate screening method currently available to measure vision in the presence of glare from headlights, streetlights and other bright sources of light in an otherwise dark environment. Lack of adequate documentation of this visual impairment in patients with cataracts may result in denial for coverage of cataract surgery from Medicare and other insurance companies. It is known that failure to treat patients with visually significant cataracts who may have difficulty driving at night increases the safety risk for themselves and others on the road.
INNOVATION & AWARDS:
Dr. Epitropoulos featured in Ophthalmology Management.

Issue: March 2011 Spotlight ON TECHNOLOGY & TECHNIQUE
Accurate Readings Even for Dense Cataract
TechColumbus"Outstanding Women in Technology" Award 2008
Received TechColumbus"Outstanding Women in Technology" Award 2008 for innovation in glare testing device.
Outstanding_Woman_of_the_Year_Technology_Award.doc
2011 TechColumbus Innovation Awards
Finalist for 2011 TechColumbus Innovation Awards:"Outstanding Product Award"
TechColumbusInnovationAwards.doc
Principle Investigator IOLMaster 500...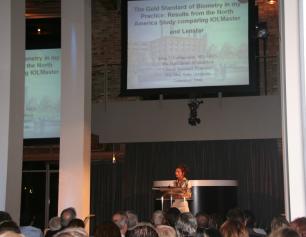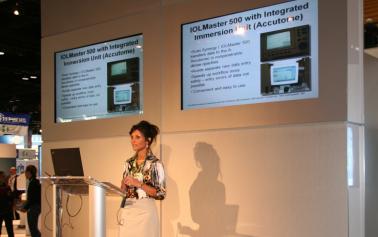 Principle Investigator First North American Experience comparing new IOLMaster 500 and Lenstar Biometry units.
Carl Zeiss Meditec Receives FDA Clearance for the IOLMaster 500 Biometer. Collectively, these enhancements allow physicians and their technicians to achieve accurate axial length measurements for more patients than ever before, while significantly reducing measurement time.
"Anything that improves patient outcomes in cataract surgery is a win-win for the physician and for the patient," said Alice Epitropoulos, MD, Co-Founder of the Eye Center of Columbus and Assistant Clinical Professor at The Ohio State University."The IOLMaster 500 not only has a higher success rate of measuring axial length in dense cataracts but it also provides the most accurate axial length readings, resulting in expected post-surgical visual outcomes. This new platform significantly improves accuracy, speed and convenience in my practice while giving me confidence in determining the best post-surgical outcomes for my patients."
View PDF of the Press Release - Carl-Zeiss-Meditec.pdf
IOLMaster500_Whitepaper_IOL.3162.pdf