Laser Cataract Surgery
How can laser cataract surgery help you?



If you are experiencing the onset of cataracts you know how difficult seeing can be. You may be struggling with night vision or you might not be able to tell the difference between pairs of socks. You may even have sensitivity to sunlight. Fortunately, cataract surgery can help you to regain what you've lost, both in terms of your vision and your quality of life. Now, a technological breakthrough is available for use in cataract surgery. Dr. Epitropoulos will be among the first practices in Ohio to have this breakthrough technology. When you choose to have your surgery performed with the Victus femtosecond laser for cataract surgery you can rest assured that you have a truly innovative solution that allows for customization in cataract surgery. A bladeless, computer-controlled laser allows the surgeon to plan and perform your surgery to exact individualized specifications, not attainable with past cataract surgery methods.
VICTUS® is the industry-leading femtosecond laser that provides exceptional performance across cataract and corneal applications on a single platform. VICTUS takes versatility to an entirely new level, enabling you to perform capsulotomies, fragmentation, arcuate incisions, corneal incisions, and even LASIK flaps. In all of its features and capabilities, VICTUS is engineered to meet the standards of the clinician who truly embraces innovation.

Benefits of Blade-Free Cataract Surgery

• Faster procedure, less ultrasound energy in the eye
• More precise incision and astigmatism correction
• Improved safety over manual processes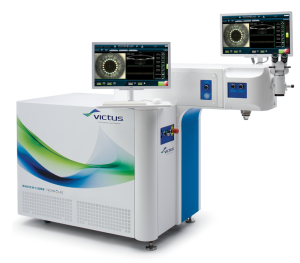 In traditional cataract surgery, Dr. Epitropoulos uses a blade and then sound waves, suction, and irrigation to break up and remove the cloudy lens and prepare the eye for the new clear lens. In laser cataract surgery, Dr Epitropoulos uses a precision laser beam to facilitate removal of the cloudy lens. New laser technology enables precision performance while minimizing the use of sound waves.

This victus femtosecond laser allows Dr. Epitropoulos to create a precise opening in the clouded human lens. The laser then softens the cataract with precision laser pulses and breaks it into tiny pieces. The new softening technique allows for more gentle removal by nearly or completely eliminating the ultrasound energy required. This step automates some of the most challenging parts of cataract surgery using real-time, 3-D visualization for truly customized treatment.

Choosing Your Lens Implants For Seeing After Cataract Surgery

During both traditional cataract surgery and femtosecond bladeless cataract surgery the cataract is removed and a new lens is required. You will need to understand your lens implant options. Fortunately, premium lens implant technology is now available to reduce your dependence on glasses at near, far and intermediate distances. Please see our ophthalmology website pages on premium lens implants. You may also choose to consult one of our staff regarding premium lens implants options based on your unique visual requirements.