Toric Interocular Lens"Reduces or Eliminates Astigmatism" During Cataract Surgery

Almost 65% of their patients saw 20/20 without glasses after surgery and 70% of their patients reported never having to use distance glasses.
Many patients with astigmatism undergoing cataract surgery who receive a TORIC INTRAOCULAR LENS implant they enjoy very good distance vision after surgery without the need for glasses. A study published the Journal of Cataract and Refractive Surgery reported 99% of patients receiving the TORIC lens in both eyes had a distance vision of 20/40 without glasses – the level required for driving.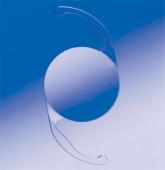 Toric Interocular Lens
95% of their patients were very satisfied with their results. The study suggested bilateral implantation of TORIC IOLs yielded excellent and stable visual outcomes that patients rated as highly satisfactory. Edward Holland, MD et al in the journal Ophthalmology reported on a series of patients undergoing cataract surgery with the TORIC LENS implant. Half of the patients, 256, received a TORIC LENS to correct their astigmatism, the other half, 261, did not – the standard lens was used in their surgery. Over 40% of their patients receiving the TORIC LENS to correct for the astigmatism saw 20/20 at distance without glasses; less than 20% of patients receiving the standard lens achieved similar results.
Mass Eye and Ear reports that over half of the patients in their study achieved 20/25 distance vision without the use of glasses. Finally, in the Archives of Ophthalmology R. Pineda et al from Boston analyzed the economic value of the TORIC LENS. The TORICLENS costs more than the standard lens. But when the long term costs of glasses and the overall "quality of life" issue is studied, they concluded that "TORIC IOLs reduce lifetime economic costs by reducing the need for glasses or contact lenses following cataract removal.
Dr. Alice Epitropoulos has been offering the TORIC LENS for her patients for several years, and our patients have enjoyed similar fantastic results.